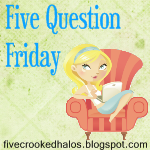 1.
Can you drive a stick shift?
Yes, I can but don't like to! Learned on a stick (poor car-sorry). Can I do it now...driving is like bike riding right?
2.
What are two foods you just can't eat?
Spinach...ewww hate the taste and texture. Mushrooms taste like dirt. Don't tell my kids mom doesn't eat her veggies!
3.
Do you buy Girl Scout Cookies? What is your favorite kind?
Do I buy girl scout cookies, heck ya! I track down the girl scouts even before they come knocking. Thin mints all the way but those coconut carmel ones are the bomb!
4.
How do you pamper yourself?
Well for several years I didn't, it was all about the kids but this year, I'm getting a pedicure every month, I'm buying shoes, and book store trip every couple weeks.
5.
What is your nickname and how did you get it?
Well Pami was my nickname growing up and HATED IT! My mom still calls me it (ummm I'm 42). I have a couple customers at the cafe who call me RED.
Well that was fun!